"When you walk into the house, we want the first thing you feel to be a sense that it envelops you, that it's really warm and welcoming, not too stark," says Sally Watkinson, co-owner of Audrey's Farmhouse B&B and the Greenhouses, a newly renovated event space, restaurant, and boutique hotel in the hamlet of Wallkill in southern Ulster County. She and her co-owner husband Doug Posey, an attorney, were living in New York City in 2015 when Posey, browsing the real estate listings, happened upon a listing for a bed-and-breakfast inn for sale.
"Before we knew it," says Watkinson, "we were meeting with a broker up here and that was kind of it. We thought at the beginning we would just do it part-time; we thought it would be a Thursday-through-Sunday-kind-of deal."
This may have been feasible when the property was merely a five-bedroom farmhouse, part of which dates to 1740, and a small guest cottage, but things quickly changed. "When we bought the B&B, it was a going concern," says Watkinson, a former visual merchandiser who has created store and display design for Victoria's Secret and Nike. The couple inherited loyal guests from former owners Audrey and Don Leff, who also ran a wedding business on the grounds, which feature meadows, a swimming pond, and views of the Shawangunk Ridge. The establishment was dog-friendly long before it became trendy. "We have a lot of brides that bring their dogs, and then they're in the ceremony," Watkinson says.
Something Old, Something New
But Watkinson and Posey pretty quickly realized that innkeeping wasn't just for weekenders. One of their first moves was to redesign the Colonial farmhouse spaces with a country-chic style Watkinson calls "modern farmhouse." "I'm constantly mixing the old and the new," she explains. "There's a sense of discovery as you walk through and each room is different, though I think there's a common thread. In every space, there will be something that's old or repurposed along with something that's new."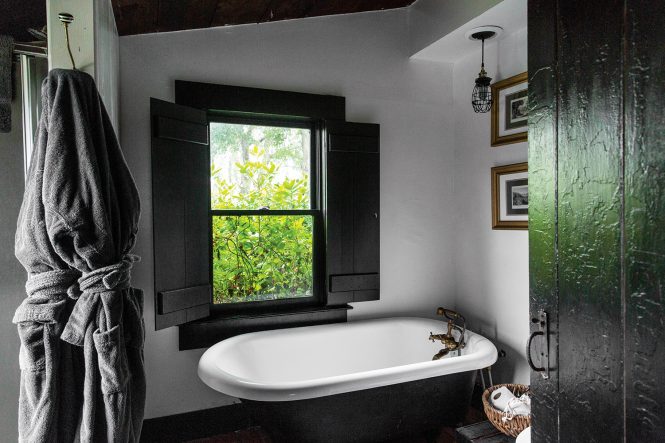 Watkinson is a fan of flea markets, and most of the pieces are vintage finds. Quirky touches abound: taxidermied antelope heads peek from a corner of a sitting room, and goose-neck desk lamps illuminate tables stacked with vintage books; the seating areas feature vintage carpets, sheepskins, mounted antlers, feed-sack and ticking pillows, leather sofas, and modern lamps; and antique snowshoes hang above a white stucco fireplace. In the dining room, a plank table surrounded by industrial-style metal stools and vintage office chairs is where guests eat family-style breakfasts (signature dishes: kale hash, poached eggs on arugula, waffles with fruit). The overall feeling is of spending a weekend in the country with your hippest foodie friends—people who really know how to make you feel at home.
The ground floor's only guest room is the Suite, featuring crisp white linens on a queen four-poster bed, barn-wood ceiling, chunky rag-type rugs, and Midcentury Scandinavian chairs. The en suite bathroom has a clawfoot tub and separate shower. The steep original stairs provide a private entrance to Cathedral, an airy room with a vaulted and beamed ceiling, queen bed, en suite bath, and seating area. Cathedral can be booked as an adjoining room with Woodstove, which has wide-plank floors, a king bed, en suite bathroom, and leather stools near its working wood-stove. Two upstairs bedrooms named for their wall colors—Charcoal and Pink—share a bathroom; they have feather-topped queen beds tucked under the eaves and are illuminated with Edison light bulbs and pendant lamps. All the rooms have Roku TVs.
The Cottage sleeps up to four adults and has a scrubbed-plank farm table, clerestory windows, framed botanical prints, subway-tiled bathroom, and mod kitchenette where guests get a "seasonal breakfast starter kit."
But First, Comfort
"If there's anything chic or upscale about our brand, it's also very comfort-based," Posey says. "We've never left a piece of furniture that looked really cool but was uncomfortable to sit on. We'll change it out for something more relaxing."
Watkinson handles behind-the-scenes logistics while Posey takes on front-of-house duties. "Doug will be in the kitchen cooking breakfast for the guests, and then come out and have coffee," she says. "Sometimes they will just hang out until checkout. That's part of the charm. We've had a lot of repeat guests along the way and a lot of them feel like family. They have been on this journey with us as we started expanding, too."
The business has grown exponentially in the past three years. In 2017, the couple reconstructed a defunct greenhouse and outbuildings across the road to create the Greenhouses hotel (with 14 loft-like rooms), events spaces, and restaurant. The U-shaped hotel incorporates the original nursery's metal hoops. Watkinson and Posey completely rebuilt the greenhouse, safely recreating the lush, industrial-ruin vibe that attracted them in the first place. Its vaulted main space has bluestone floors and is temperature-controlled and stocked with plants. The adjacent barn houses another large event space and the front desk.
The property is a mix of patios and decks among chic plantings, wide lawns, and the pond—all installed to protect nearby wetlands. The staff numbers from 25 to 34 depending on the season. Watkinson and Posey live nearby with their two small children and two dogs in a split-level ranch, where the decor is a mix of modern, vintage, and repurposed.
"The community has been really receptive," says Watkinson. "They see we're not just here for folks coming up from the city." (Case in point: "When Doug was coming up with the menu, we started with the $9 burger." It's still on the menu.) The couple shows movies in the barn, hosts a farmers' market, and serves dinner on Thanksgiving and New Year's Eve. Their brand of hospitality is similarly inclusive, melding comfort (sheets so plush guests often ask to buy them) and sturdiness (everything stands up to dogs) with sleek luxury (Aesop toiletries, four-poster spool beds).
"We get a lot of kids staying here," Watkinson says. "I like to say we're human-friendly and dog-friendly—we're just friendly!" Creating a comfortable environment for guests is always the priority. "We're on-site daily because we think it's very important for our business. We always want our guests to walk away feeling like they had a really warm experience, but, yeah, we get something back from that, too, and I think that shows."